Applications for the 2021-2022 TDF cohort are now closed (May 24, 21 at 11:59 pm ET). Visit this page to find out more.
---
The Teaching Development Fellowship Network (TDFN) is a professional development and leadership opportunity for graduate students who are interested in improving their teaching while promoting pedagogical development and discussion among their peers. Fellows organize and direct department-based events. They also develop resources aimed at developing TA's teaching skills in their home department with support from TLL and an interdisciplinary network of fellows.
The program is an opportunity to improve your teaching practice, demonstrate your commitment to teaching, and help elevate the quality of teaching in your department.
2020-2021 Teaching Development Fellows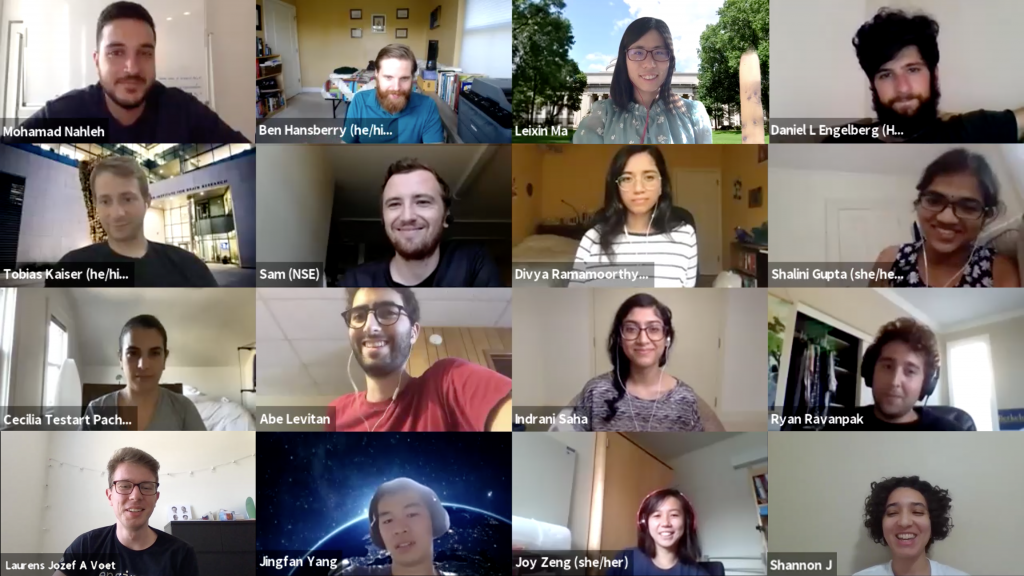 | Fellow | Department |
| --- | --- |
| Abraham Levitan | Physics Department |
| Cecilia Testart | Electrical Engineering & Computer Science |
| Daniel Engelberg | Department of Urban Studies and Planning |
| Divya Ramamoorthy | Biological Engineering Department |
| Indrani Saha | History, Theory & Criticism of Architecture and Art (HTC) program |
| Jingfan Yang | TLL institute-wide fellow |
| Joy Zeng | Chemical Engineering Department |
| Laurens Voet | Aeronautics and Astronautics Department |
| Leixin Ma | Mechanical Engineering Department |
| Mohamad Nahleh | Department of Architecture |
| Ryan Ravanpak | Philosophy Department |
| Sam McAlpine | Nuclear Science and Engineering Department |
| Shalini Gupta | Biology Department |
| Shannon Johnson | Media Arts and Sciences Program |
| Tobias Kaiser | Brain and Cognitive Sciences Department |
Fellowship activities
Teaching Development Fellows focus their activities on addressing the teaching needs in their departments. Since the needs and teaching experience of each department varies, fellows take the lead in identifying and designing programming that would be most appropriate for their peers.
Each semester, fellows are expected to complete 2 departmental projects:
Fellows may design an event that either presents a pedagogical concept or teaching practice in a disciplinary context or provides training for new TAs in their department (e.g, a workshop, training session, or faculty panel).
Fellows may design a project or event that fosters a collaborative culture of teaching in their department, such as organizing microteaching or peer observation, leading a learning community or reading group, hosting a luncheon, or developing departmental resources. This may be an existing program that the fellow maintains or enhances.
In addition to departmental projects, fellows will:
Receive training from TLL on workshop and pedagogical design, as well as topics across the scholarship of teaching and learning
Collaborate with peers across the Institute and assist in TA Days programming
Meet regularly as a cohort to share ideas and discuss teaching topics
Observe at least one other fellow's programs
Fellows should plan to commit approximately 8-10 hours per month from August to May to achieve the work associated with this fellowship. Their work is supported by each fellow's department with a total stipend of $2,000 (or $200 per month).
Aims and impact
The Teaching Development Fellows Network is designed to improve TA teaching, benefiting the Institute on several levels.
Fellows benefit departments by providing specialized training for TAs with oversight from TLL.
Fellows benefit the graduate student community by acting as teaching mentors, organizing collaborative learning communities, and providing a connection to other programs.
Fellows benefit undergraduates by providing resources and training to new TAs, improving their ability to help undergraduates succeed.
Fellows benefit themselves through academic and pedagogical professional development by continuing a reflective teaching practice, designing original workshops, and working in a collaborative and interdisciplinary network.