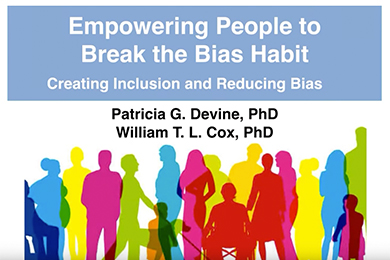 Empowering People to Break the Bias Habit
Stereotypes, prejudice, and implicit biases have received a great deal of attention, both within our community and nationally. Dr. Patricia Devine and Dr. William Cox, scientific leaders in the study of stereotyping and implicit biases, have put together and empirically tested this evidence-based training, which focuses on addressing intergroup disparities and what individuals can do to reduce implicit or unintentional biases.
All MIT community members can access the learning module, including the recording of this presentation, via the course catalog in the Atlas Learning Center.
---
Additional Resources
---
About the Presenters
Dr. Devine has been a social psychology professor at UW-Madison since 1985 and is internationally recognized as an eminent expert in the scientific study of stereotyping, prejudice, and intergroup relations. The very notion of "implicit bias" or "unintentional bias" originated in her early work (Devine, 1989). Dr. Cox is an assistant scientist in psychology, and his work advances our understanding of the neural, cognitive, and cultural mechanisms that perpetuate stereotypes and biases. For the last 11 years, Drs. Devine and Cox have developed and tested the bias habit-breaking intervention, which was the first and remains the only intervention that has been shown experimentally to produce long-term changes in bias (Devine, Forscher, Austin, & Cox, 2012; Forscher, Mitamura, Dix, Cox, & Devine, 2017).