Writing-based Strategies for Learning
Writing engages students in solidifying tacit and unformed ideas, connecting them, and translating them for particular audiences.
On Tuesday, April 28, 2020, this session explored applications of writing-to-learn pedagogy used in a variety of STEM classrooms. Dr. Ginger Shultz led a discussion of how writing can support student learning in STEM, providing strategies and tools to make writing-to-learn feasible, even in large introductory courses.
Guest Speaker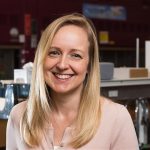 Assistant Professor, Chemistry, University of Michigan
Ginger Shultz is an Assistant Professor in the Department of Chemistry at the University of Michigan. Ginger completed her doctorate in polymer chemistry at the University of Oregon and transitioned to education-focused research through a teaching postdoc in Chemistry at the University of Michigan. In 2013 she was named a UM Presidential Postdoctoral Fellow and she was hired as faculty in 2016. Ginger's research is focused on investigating student reasoning in chemistry, how graduate students instructors develop teaching knowledge, and writing-based strategies for learning in STEM.