Optimize Your Mentoring Practice
On Monday, January 13, 2020, we hosted Dr. Christine Pfund, who presented how to use the science of effective mentorship to optimize your mentoring practice.
Mentoring is associated with academic and career success across disciplines and career stages in higher education. At the junior faculty level, strong mentorship has been linked to enhanced mentee productivity, self-efficacy, career satisfaction, and sense of support. Similarly, mentoring graduate students are more likely to persist in their academic decisions, with positive mentoring being cited as the most important factor in degree attainment.
Mentored graduate students and junior faculty are more likely to publish their research than counterparts who are not mentored. Unfortunately, few mentors have received formal training in effective mentoring practices, particularly for mentoring minority scholars. Even fewer scholars receive formal instruction on what it means to be a proactive mentee and do not have the self-efficacy required to articulate their needs to mentors. This has led to a national focus on the "science of mentoring' and calls for research on mentoring and tested interventions to optimize mentoring relationships across diverse groups and optimize their relationships.
Learning Outcomes
Learn about national models for mentor and mentee training and evidence of their effectiveness
Engage in discussions of ways to optimize their mentoring practices
Explore resources available for mentor and mentee education including the newly released report from the National Academies.
Guest Speaker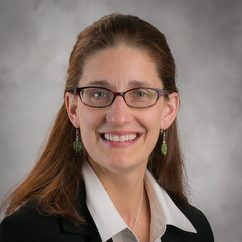 Assistant Professor, Chemistry, University of Michigan