Students' Sense of Belonging Matters: Evidence from Three Studies
On Thursday, February 16, we hosted Dr. Maithreyi Gopalan to discuss her latest research on how students' sense of belonging matters.
Takeaways
Evidence has shown that in certain contexts, a student's sense of belonging improves academic outcomes, increases continuing enrollment, and is protective for mental health. In some of the studies presented, these correlations were still present beyond the time frame of the analysis, suggesting that belonging might have a longitudinal effect.
Providing a more adaptive interpretation of challenge seemed to help students in a belonging intervention make alternative and more adaptive attributions for their struggles, forestalling a potential negative impact on their sense of belonging.
---
Professor Gopalan began her talk by discussing how the need for "a sense of belonging" has been identified as a universal and fundamental human motivation in the field of psychology. John Bowlby, one of the first to conduct formal scientific research on belonging, examined the effects on children who had been separated from their parents during WWII (Baumeister & Leary, 1995). From his pioneering work, Bowlby and colleagues proposed that humans are driven to form lasting and meaningful interpersonal relationships, and the inability to meet this need results in loneliness and mental distress. Educational psychologists adapted the concept of belonging to indicate how students' sense of fit with themselves and with their academic context can affect how they perceive whether they can thrive within it (Eccles & Midgley, 1989; Eccles & Roeser, 2011).
After providing this brief overview of what belonging means more broadly, Dr. Gopalan introduced the concept of "belonging uncertainty" pioneered by social psychologists Geoffrey Cohen and Gregory Walton at Stanford University (Walton & Cohen, 2007) to describe the uncertainty students might feel about their belonging when entering a new social and academic situation, which is most pronounced during times of transition (e.g., entering college). Research has shown that belonging uncertainty affects how students make sense of daily adversities, often interpreting negative events as evidence for why they do not belong. Belonging uncertainty may result in disengagement and poor academic outcomes. In contrast, a sense of belonging is associated with academic achievement, persistence in the course, major, and college (Walton & Cohen, 20011, Yeager & Walton, 2011). It is the concept of belonging uncertainty that is the focus of Dr. Gopalan's presentation, with emphasis on the findings from the following key research questions:
How do students' sense of belonging in the first year correlate with academic persistence and outcomes at a national level?
Can belonging interventions during the first semester of college lead to increased persistence and academic achievement in a diverse educational setting?
How does a student's sense of belonging amidst the COVID-19 pandemic correlate with mental health?
Study 1: College Students' Sense of Belonging: A National Perspective (Gopalan & Brady, 2019)
Most research examining college students' sense of belonging has come from studies looking at one or a few single four-year institutions. To examine how belonging differs across student identities and institutions, Professor Gopalan and colleagues looked at the responses from the only nationally representative survey of college students to date that had measured belonging. The Beginning Postsecondary Students Longitudinal Study (BPS) (Dudley et al., 2020) sampled first-time beginning college students from 4070 eligible two- and four-year institutions (N= 23, 750 students), surveyed during their first year and subsequently two years later.
Professor Gopalan examined average measurements of belonging across institution type and student characteristics (Gopalan & Brady, 2019) and associations between belonging measurements and measurements of academic achievement, including GPA and persistence (continued enrollment), self-reported mental health, and self-reported use of campus services. The results, Dr. Gopalan explained, were striking: underrepresented racial and ethnic minority students (URMs) and first-generation/low-income students (FGLIs) reported a lower sense of belonging in four-year colleges than their non-URM and non-FGLI counterparts.1 Importantly, they also found that having a greater sense of belonging is associated with higher academic performance, persistence, and is protective for mental health in year three of students' undergraduate trajectory, suggesting that belonging might have a longitudinal effect (Gopalan & Brady, 2019). These findings were consistent with previous results from smaller studies involving single institutions. Sense of belonging is important not just in specific institutions but nationally, and social identity and context matter. One practical and policy-driven takeaway from this study is that only one national data set currently measures students' sense of belonging using a single item. More robust measurements and large data sets might reveal additional insights into the importance of belonging for students' educational experiences.
1 At two-year colleges, first-year belonging is not associated with persistence, engagement, or mental health. This suggests that belonging may function differently in two-year settings. More work is ongoing to try to understand the context that might be driving the difference. (Deil-Amen, 2011).
Study 2: A customized belonging intervention improves retention of socially disadvantaged students at a broad-access university (Murphy et al., 2020)
Professor Gopalan and colleagues wanted to understand how to adapt existing belonging interventions to different educational contexts and dig deeper into underlying psychological processes underpinning belonging uncertainty. Because previous social-belonging interventions were conducted in well-resourced private or public institutions, Professor Gopalan was interested in examining whether the positive effects of belonging interventions could be extended to a broader-access context (context matters as not all extensions of belonging interventions have been shown to reproduce persistent changes in enrollment and academic outcomes). For this purpose, the traditional belonging interventions were customized for a four-year, Hispanic-serving public university with an 85% commuter enrollment using focus groups and surveys. Based on prior research, belonging interventions provide an adaptive lay theory for why students encounter challenges during transition times (Yeager et al., 2016). Students, particularly those with little knowledge of how college works or those who have experienced discrimination, or are aware of negative stereotypes about their social group, may make global interpretations of why college can be challenging and may even associate challenges as evidence that they and students like them don't belong. With belonging interventions, the lay theory provided to students aims to frame the experience of challenge in more adaptive ways—challenge and adversity are typical experiences, particularly during transitional moments, and should be expected; adapting academically and socially takes time—students will be more likely to persist, seek out campus resources and develop social relationships.
Belonging Intervention Components
They acknowledge that challenges are expected during transitions and that these are varied.
They communicate to students that most students, including students from non-minority groups, experience similar challenges and feelings about them.
They communicate that belonging is a process that takes time and tends to increase over time
They use student examples of challenges and resolutions.
The Intervention
All students in the first-year writing class were randomly assigned to either the belonging group or an active control group. The intervention was provided to first-year students in their writing class and consisted of a reading and writing assignment about social and academic belonging. The control group was given the same assignment but with a different topic, study skills. In the intervention group, students read several stories from a racially diverse set of upper-level students who reflected on the challenges of making friends and adjusting to a new academic context. The hypothetical students reflected on the strategies they used, the resources they accessed, and how the challenge dissipated over time. After the reading exercise, the students in the intervention group were instructed to write about how the readings echoed their own first-year experiences. Then, they were asked to write a letter to future students who might question their belonging during their transition to college. Research has shown that written reflections help students internalize the main messages of the belonging intervention (Yeager & Walton, 2011).
Similar to previously published belonging interventions, results in persistence and academic achievement were significant for minoritized groups in the belonging cohort:
Persistence. Compared to the control group, continuous enrollment for URM & FGLI students increased by 10% one year after and 9% two years after the intervention.
Performance. The non-cumulative GPA from the URM & FGLI students increased by 0.19 points the semester immediately following the intervention and by 0.11 over the next two years compared to students in the control group.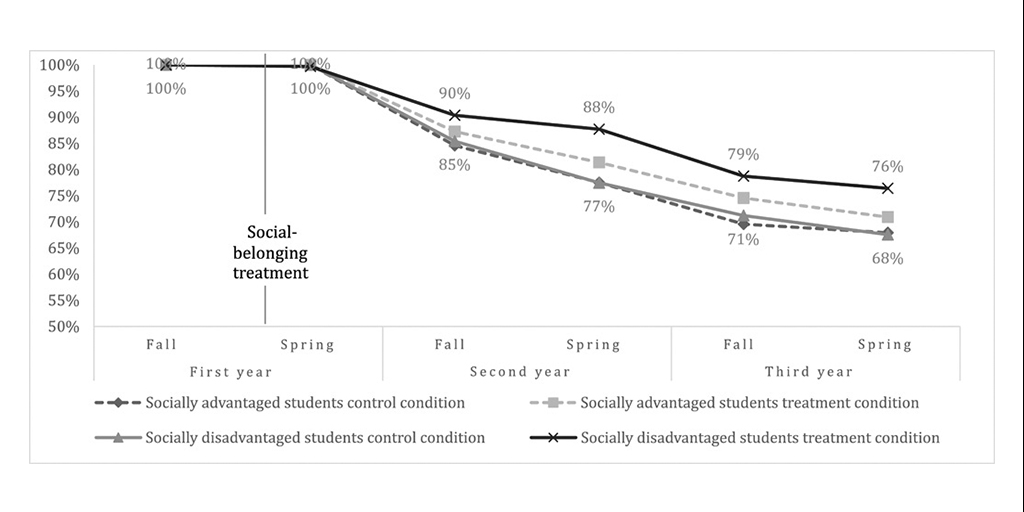 Immediately following the intervention, a selected sub-sample of students in both conditions was invited to take a daily diary survey for nine consecutive days. The daily diary survey assessed students' daily positive and negative academic and social experiences (students were asked to report and describe three negative and three positive events that they faced daily and to rate how positive and negative the events were), as well as their daily sense of social and academic belonging. The daily-diary assignment revealed another interesting finding: the intervention did not change the overall perception of negative events. URM & FGLI students in both groups had a statistically similar daily-adversity index and reported the same number of daily adverse events on average. However, there was no connection between the adversity index and sense of belonging for students in the belonging cohort. In contrast, students in the control group evidenced a negative correlation between daily adversities and belonging: "the greater adversity disadvantaged students experienced on a day, the lower their sense of social and academic fit" (Murphy et al., 2020).
Providing a more adaptive interpretation of challenge seemed to help students in the belonging condition make alternative and more adaptive attributions for their struggles that did not connect to their sense of belonging. A follow-up survey one year after the intervention showed that minoritized students in the belonging intervention continued to report a higher sense of belonging in comparison to their counterparts in the control group.
Study 3: College Student's Sense of Belonging and Mental Health Amidst the COVID-19 Pandemic (Gopalan et al., 2022)
Dr. Gopalan presented the third study, which turned out to provide a unique opportunity to assess whether sense of belonging had predictive effects on mental health. In the fall of 2019, researchers sent a survey to students at a large, multicampus Northeastern public university called the College Relationship and Experience survey (CORE), which included two questions about belonging, among other items. In the Spring of 2020, after students were sent home due to the COVID-19 pandemic, a variation of the same survey was sent to students who had taken the CORE survey. After controlling for pre-COVID depression and anxiety, Dr. Gopolan and colleagues found that students who reported a higher sense of belonging in the fall of 2019 had lower rates of depression and anxiety midst-COVID pandemic, with the effects on depression more strongly predictive than those for anxiety. The correlation between a lower sense of belonging and higher rates of depression and anxiety was also found to be strongest for first-year students, who had little time during their first year to build community and adjust to college before the pandemic hit.
Dr. Gopalan concluded with some practical advice for instructors: "Stop telling students they belong, show them instead that they belong," citing a recent op-ed from Greg Walton. We do this by modeling the idea that belonging is a process that takes time and by communicating to students that they are not alone, which can be done through sharing our own experiences with belonging, and by allowing students space to hear the experiences of their peers and learn from one another.
Resources
General
TLL
Academic Belonging: introduction to the concept and practices that support it.
Flipping Failure: a campus-wide initiative to help students feel less alone by hearing stories about how their peers coped with academic challenges
References
Baumeister, R. F., & Leary, M. R. (1995). The need to belong: Desire for interpersonal attachments as a fundamental human motivation. Psychological Bulletin, 117(3), 497–529. https://doi.org/10.1037/0033-2909.117.3.497
Deil-Amen, R. (2011). Socio-academic integrative moments: Rethinking academic and social integration among two-year college students in career-related programs. The Journal of Higher Education, 82(1), 54-91. https://doi.org/10.1080/00221546.2011.11779085
Dudley, K., Caperton, S.A., and Smith Ritchie, N. (2020). 2012 Beginning Postsecondary Students Longitudinal Study (BPS:12) Student Records Collection Research Data File Documentation (NCES 2021-524). U.S. Department of Education. Washington, DC: National Center for Education Statistics. Retrieved 2/27/2023 from https://nces.ed.gov/pubsearch/pubsinfo.asp?pubid-2021524
Eccles, J. S., & Midgley, C. (1989). Stage/Environment Fit: Developmentally Appropriate Classrooms for Early Adolescence. In R. E. Ames, & Ames, C. (Eds.), Research on Motivation in Education, 3, 139-186. New York: Academic Press.
Eccles, J. S., & Roeser, R. W. (2011). Schools as developmental contexts during adolescence. Journal of Research on Adolescence, 21(1), 225–241. https://doi.org/10.1111/j.1532-7795.2010.00725.x
Gopalan, M., & Brady, S. T. (2020). College Students' Sense of Belonging: A National Perspective. Educational Researcher, 49(2), 134–137. https://doi.org/10.3102/0013189X19897622
Gopalan, M., Linden-Carmichael, A. Lanza, S. (2022). College Students' Sense of Belonging and Mental Health Amidst the COVID-19 Pandemic, Journal of Adolescent Health, 70(2), 228-233. https://doi.org/10.1016/j.jadohealth.2021.10.010
Murphy, M.C., Gopalan, M., Carter, E. R., Emerson, K. T. U., Bottoms, B. L., and Walton, G.M., (2020). A customized belonging intervention improves retention of socially disadvantaged students at a broad-access university Science Advances, 6(29). DOI: 10.1126/sciadv.aba4677
Walton, & Cohen. (2007). A question of belonging: Race, social fit, and achievement. Journal of Personality and Social Psychology, 92(1), 82. https://doi.org/10.1037/0022-3514.92.1.82
Walton, G.M., & Cohen, G.L. (2011). A Brief Social-Belonging Intervention Improves Academic and Health Outcomes of Minority Students. Science, 331(6023), 1447-1451. DOI: 10.1126/science.1198364
Yeager, D. S., & Walton, G. M. (2011). Social-Psychological Interventions in Education They're Not Magic. Review of Educational Research, 81(2), 267–301. http://doi.org/10.3102/0034654311405999
Yeager, D.S., Walton G.M., Brady, S.T., Dweck, C.S.,(2016). Teaching a lay theory before college narrows achievement gaps at scale, Psychological and Cognitive Sciences, 113(24), E3341-E3348. https://doi.org/10.1073/pnas.1524360113