TLL staff present on Inclusive and Equitable Teaching Assessment at Transforming Institutions Conference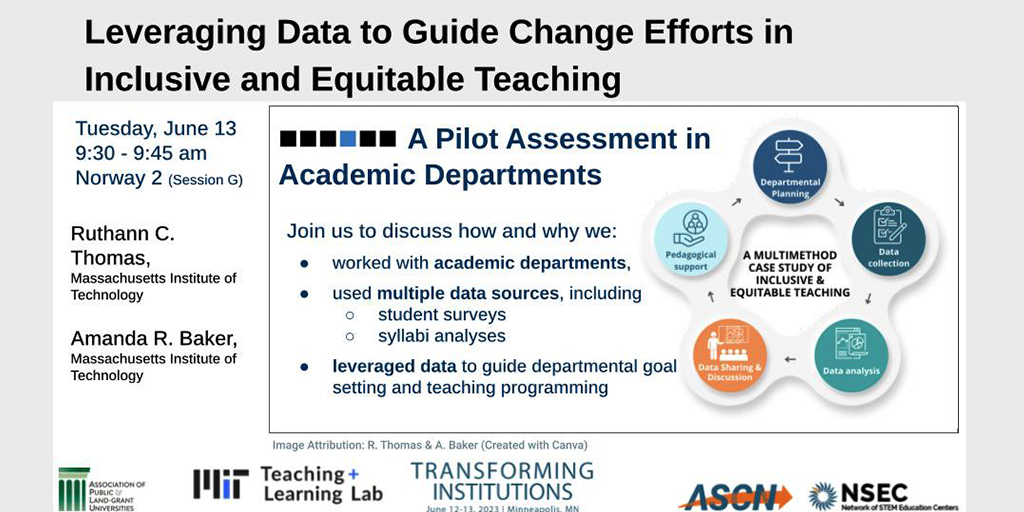 In June 2023, Dr. Ruthann Thomas and Dr. Amanda Baker of the MIT Teaching + Learning Lab presented the Inclusive and Equitable Teaching (IE-Teaching) Assessment at the Transforming Institutions Conference. The IE Teaching Assessment is an initiative designed to promote more inclusive and equitable teaching practices in partnership with academic departments at MIT. The project leverages data to motivate, inform, and tailor change efforts to the departmental contexts in which they will be implemented (Reinholz & Apkarian, 2018; Ngai et al., 2020). The Transforming Institutions conference brings together researchers, change agents, administrators, and policymakers to discuss institutional change and transformation of undergraduate education.
In this project, Drs. Thomas and Baker partnered with academic departments across disciplines to pilot the IE-Teaching Assessment, which involved collecting multiple types of data (including surveys administered to students, qualitative analyses of course syllabi, and a review of departmental policies and practices) and using these data to guide collaborative discussions about teaching practices within the department. Each data source was designed to capture inclusive and equitable teaching indicators, guided by the equity-focused teaching principles advanced by the University of Michigan Center for Research on Teaching & Learning (2021).
After analyzing the data at the department level, they shared the findings with departmental leadership, faculty, instructional staff, and other stakeholders to motivate and inform instructors' re-examination of their teaching practices and the departmental structures that influence teaching within the department. The presentation highlighted:
How and why they focused on working with academic departments, rather than individual instructors, to promote inclusive teaching;
How different data sources from multiple stakeholder perspectives provided nuanced information to guide change efforts; and
How they are leveraging these data to support departmental stakeholders in developing their own plans and resources for promoting inclusive and equitable teaching.
Slides and a handout from the presentation are included below.
References
Ngai, C., Corbo, J. C., Quan, G. M., Falkenberg, K., Geanious, C., Pawlak, A., Pilgrim, M. E., Reinholz, D. L., Smith, C., & Wise, S. (2020). "Developing the Departmental Action Team theory of change." In K. White, A. Beach, N. Finkelstein, C. Henderson, S. Simkins, L. Slakey, M. Stains, G. Weaver, & L. Whitehead (Eds.), Transforming Institutions: Accelerating Systemic Change in Higher Education (ch. 5). Pressbooks.
Reinholz, D. L., & Apkarian, N. (2018). Four frames for systemic change in STEM departments. International Journal of STEM Education, 5(1), 1–10. https://doi.org/10.1186/s40594-018-0103-x
University of Michigan Center for Research on Teaching & Learning (2021). Equity-focused Teaching Strategies List. https://crlt.umich.edu/equity-focused-teaching