How Instructors Can Support Student Well-being
On Wednesday, February 24, 2021, the Teaching + Learning Lab hosted this talk on strategies for promoting a culture of student well-being, involving a case-study from the University of Washington. The session included a sample of practices and teaching strategies drawn from the guidebook from a wellbeing guidebook that the University of Washington Resilience Lab recently co-authored. Presenters also shared considerations for developing a community of practice around this work and reflections on leveraging well-being practices and resilience coping skills to teach in a more equitable and inclusive way.
View or download presentation slides:
Background
The American College Health Association reported in 2018 that 40% of undergraduate students felt severely depressed within the last year, and more than 10% seriously considered suicide. At the University of Washington, surveys found that students' mental health mirrored these national trends, beginning with the 2014 Retention Survey, where over 50% of students reported that they leave the university due to emotional distress. As a result, the UW Student Mental Health Task Force was formed in 2019 to help develop recommendations for improving student mental health outcomes on campus. Among their final report, a continuum of care model is included to present a more holistic approach to wellbeing and emphasize that programs supporting student wellbeing are all connected and coordinated.
As this initial work was conducted, it became apparent that there was also untapped potential in more traditional academic environments. The initiative mobilized instructors to create learning environments that promote wellbeing more holistically. This is guided by questions such as:
How do we create a culture of wellbeing at UW by inviting everyone into the work?
What does "care for the whole person" mean for a large public research institution?
What is the role of social and emotional learning in higher ed?
All of these data, surveys conducted on campus, and recommendations by the mental health task force came together to form the University of Washington's Well-Being for Life and Learning Initiative out of the Resilience Lab, with a mission to support faculty as they work to create learning environments that promote the health and wellbeing of their students.
Pilot Program
The initiative's pilot program began in January 2019 with 40 instructors from across 17 depts and 3 UW campuses. The instructors were able to help reach 4000 students within one year. The Resilience Lab surveyed students and ran focus groups with faculty to understand how the initiative impacted students and what the faculty experience was like participating in the program. They also assessed instructors who had received the Distinguished Teaching Award to see what they do in the classroom to promote well-being. The UW Resilience Lab then worked with the 40 pilot instructors, along with students and staff, to develop a framework that serves as the foundation for the Well-Being for Life and Learning Guidebook.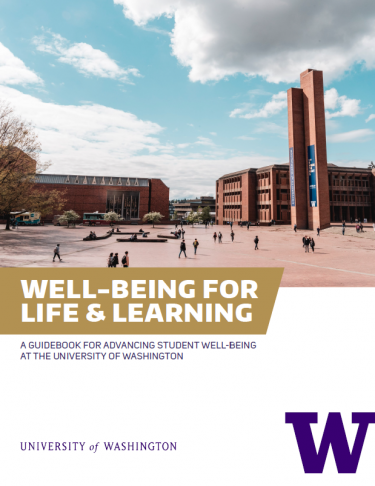 This 87-page guidebook, released in fall 2020, combines research, teaching practices, and testimonies to help instructors and was co-authored by undergraduate students, graduate students, postdocs, and tenured instructors working with the Resilience Lab.
The guidebook is organized around 4 foundations for student well-being, drawing from core mindsets of social and emotional learning, as well as similar well-being programs at Georgetown University and the University of Texas at Austin. The 4 foundations are as follows:
Teaching for equity and access: creating an atmosphere of belonging, such as creating shared norms and expectations in-class discussion
Nurturing connection: encouraging student social connections with others, and their connection/awareness within themselves (e.g., peer study groups)
Building resilience and coping skill: teaching and modeling everyday practices for the four pillars of resilience — mindfulness, growth mindset, gratitude, self-compassion
Connecting to the environment: establishing a meaningful relationship between students and the places they learn and grow (e.g., creating ways for students to learn outside)
Applying the guidebook to teaching practice
This TLL Speakers Series talk began with an introduction to the Well-Being for Life and Learning Guidebook by Megan Kennedy, Director of the University of Washington Resilience Lab and co-chair of the UW Student Well-Being Collaborative. A case-study was then presented by Robin Evans-Agnew, Associate Professor in the University of Washington Tacoma's School of Nursing and Healthcare Leadership, who shared how he implemented the guidebook's core principles in his nursing classes, focusing on 3 key themes — mindfulness, fostering connections, and the CARE Model.
Mindfulness
Evans-Agnew likes to open his classes with a brief 5-minute mindfulness session. Students may have been running from one Zoom meeting to another in a packed day, without time to think about themselves and recenter themselves. He has found it very useful to give students time to sit quietly and pay attention to their bodies before transitioning to class material.
Fostering connections
Building connections is important in the classroom, especially student-student and student-faculty relationships. Student-student connections have become even more important with COVID, and it is helpful to build that into a classroom setting to help students create connections with each other and feel more engaged. To build student-faculty connections, Evans-Agnew likes to actively reach out to his students and talk to them over the phone twice a quarter, rather than wait for them to show up at office hours. Many students might not have even had an individual conversation with faculty throughout the undergraduate experience, and this can be a transformative experience for both parties.
CARE model
Drawing from the nursing field, Evans-Agnew implements the CARE (compassion, awareness, resilience, empowerment) model in his classes. This model is often used in health professions, but can also be transferred to a variety of other classroom environments. 
To put the CARE model into practice during the 10-week quarter, Evans-Agnew facilitates exercises that support the practice of each of the 4 pillars within the model (2 weeks of each pillar). Using these exercises to start each class has been transformative for students, helping them to recenter themselves and build their sense of connectivity and common humanity. Though small, students are able to recognize that they have the power inside themselves to develop resilience.
Looking forward
As more deans become interested in this well-being work at UW, departments may follow in taking it on. There are many opportunities to grow this initiative as well as challenges to overcome, such as faculty allocating time from already packed class sessions to more directly address student well-being.
To learn more about implementing well-being research in the classroom, see the UW guidebook.
Guest speakers
Megan Kennedy, MA, LMH
Director of the University of Washington Resilience Lab and co-chair of the UW Student Well-Being Collaborative
Kennedy's focus at the UW is on leading strategic initiatives to support student mental health and well-being. Kennedy believes that building systems to support high-quality wellness and educational programs requires teamwork at every level. From engaging community stakeholders in vision-setting to partnering with students, staff, and instructors, her approach to leadership centers on collaborative relationships. Kennedy, who has a background in mental health counseling, served as clinical director at Youth Eastside Services (Redmond, WA) before working at the UW.
Dr. Robin Evans-Agnew
Associate Professor in the University of Washington Tacoma's School of Nursing and Healthcare Leadership
Dr. Evans-Agnew is focused on upstream actions to transform inequities, especially as they relate to asthma and environmental justice, and trauma-informed nursing practice. He is co-editor of an upcoming special issue of Health Promotion Practice on photovoice – a method for empowering communities for transformative change. In his research and practice, he explores and engages with the intersection of action inquiry processes and group leadership and followership. In particular, he leads a regional community of practice with other nurse leaders focused on transforming nursing education for resiliency and prevention of the lifelong consequences of adverse childhood experiences. As a community-based nurse, he has worked extensively with Black, Indigenous, People of Color for community transformation, including a 9- year Community-Based Participatory Research partnership with the Mujeres Latinas Apoyando la Comunidad, a group of new immigrant mothers of children with asthma. His second degree was in nursing from Johns Hopkins University and he completed his Masters in nursing at the University of Washington (1998) working with a northwest tribe on a culturally appropriate physical activity assessment. His PhD (UW, 2011) concerned asthma management inequities in Black urban youth from Seattle.
---
Written by Melissa Cao