Reinventing Education Post-Pandemic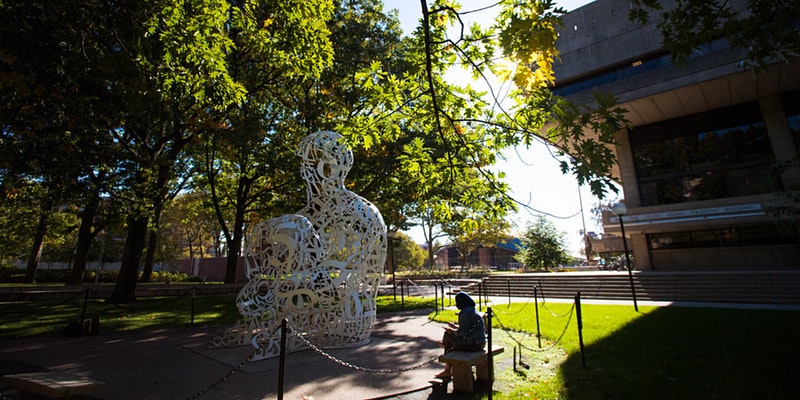 On December 16, 2021, we hosted a talk by Professor Justin Reich. Professor Reich discussed his research on how the experiences of students and teachers during pandemic schooling are vital to educational recovery and building back better.
Capturing the Perspectives of Teachers and Students
In the early days of the COVID-19 pandemic, conversations focused on high-level questions about how the pandemic would disrupt education: Will schools stay open, and if so, under what conditions? How will the pandemic impact standardized test performance? However, Professor Justin Reich argues that when researchers simply focus on these two questions, they fail to consider a vital part of education: the day-to-day experiences of the teachers and students in the classroom.
In the spring of 2021, Reich and his team conducted three research exercises to understand these experiences:
They invited 200 teachers to interview their students about the past year and share their findings (the instructions are available at http://bit.ly/imaginingseptember2021).
They interviewed 50 classroom teachers.
They conducted ten multistakeholder design charrettes with students, teachers, school leaders, and family members.
The spring 2021 research builds on research from Summer 2020, which had focused on understanding the initial school closures and pivots to remote learning in Spring 2020 and working with school communities to design a better experience for Fall 2020.
Disparate Impacts
Experts in online instruction will attest that high-quality remote learning looks quite different from traditional classroom learning. However, the quick pivot in Spring 2020 and ongoing lack of resources and training for teachers meant that in most cases, pandemic-era remote K-12 education mirrored traditional classroom education. Class time was moved to a video conferencing platform and materials were shared via digital Learning Management Systems rather than on paper, attempting to replicate in-person teaching rather than reshaping the learning experiences to take advantage of the affordances of remote learning while minimizing the drawbacks. Individual teachers also adopted discipline-specific tools that served functions such as collaboration, asynchronous content delivery, and practice. The abundance of tools led to an overwhelming number of logins and platforms for students and parents to manage until schools began to coordinate platforms centrally.   
The remote student experience varied widely, and their academic and social experiences were not necessarily correlated. For example, some students with special needs struggled because they were cut off from needed special education resources, whereas others thrived in an environment with fewer distractions and more control over how they learn. Students shared that they did better academically without their friends around to distract them, but noted that they then struggled to reacclimate themselves to the social environment of the classroom. Other factors like access to broadband, relationships with family, and bullying and racism experienced at school also shaped student experiences of remote schooling.
For teachers, the experience was almost always exhausting and often demoralizing. Despite making recommendations to administrators and policy-makers, teachers often felt ignored when decisions were made. At the same time, teachers demonstrated tremendous resilience and capacity for innovation, developing new teaching strategies and adapting quickly to ensure their students' needs were met.
Hopes for the Future
Reich presented three potential trajectories for post-pandemic education: a return to the status quo, a focus on remediating learning loss, or an organized effort to reinvent education to be more humane. Early efforts to return to the status quo are already demonstrating the problems with doing so, as schools struggle with understaffing and a rise in fighting among stressed students. Remediation, meanwhile, is popular among policymakers but does not resonate at the classroom level. As a deficit-oriented approach, remediation fails to recognize that while certain learning goals were not achieved, students demonstrated incredible resilience and learned a lot from the experience. The third approach, a humane reinvention, builds on the strengths that students and teachers alike have demonstrated. Though Reich favors this third approach, he recognizes that there are many barriers to change.
Interviews with teachers have reinforced the idea that teachers are capable of innovation, but the pandemic has left many too exhausted to take on new initiatives. Initiatives can be enjoyable and energizing when teachers are actively involved in shaping change that they believe will benefit them and their students. However, it will be hard to create such a productive environment unless teachers feel supported and trusted by administrators, policymakers, and communities. Another problem is that most of the United States relies on public schools to provide necessary social services for children. While schools have done their best to keep students safe, healthy, and fed, doing social services work can take time and resources away from their core mission of teaching and learning.
To overcome these barriers as society recovers from the pandemic, Reich supports the idea of "strategic subtraction" in which old practices are "hospiced" to make room for new initiatives. Some changes, like abolishing rules that do more to police student bodies and behaviors than to improve learning, are relatively straightforward. Students who have gotten used to an at-home learning environment and the associated autonomy are quick to point out that they can learn just as effectively while wearing a hoodie or enjoying a snack. Other changes, like remedying long-standing inequities in how schools access resources, will be more challenging.
Takeaways for Higher Education
Though his research focused on K-12 schools, Reich notes that it has several implications for higher education. Some of Reich's findings parallel those seen at MIT and other universities. The loss of a year or more of socialization may impact an elementary school student differently than a college student, but both are returning to the classroom with new social challenges. Loneliness, isolation, and social anxiety have become common, and readjusting to social norms takes time.
Most importantly, K-12 schools shape the students who will become undergraduates. Incoming first-year students will have weathered a broad spectrum of pandemic-era educational experiences. Rather than focusing on filling gaps in these students' knowledge, colleges would be wise to appreciate the strengths these students will bring to campus: their resilience, their capacity for self-regulated learning, and their hard work to make the best of an incredibly challenging situation.
Further Reading
All reports can be found at: tsl.mit.edu/covid19, including the specific reports discussed in the talk:
About the Speaker
Justin Reich is an associate professor of digital media in the Comparative Media Studies/Writing department at MIT and the director of the Teaching Systems Lab. He is the author of Failure to Disrupt: Why Technology Alone Can't Transform Education, and the host of the TeachLab Podcast. He earned his doctorate from the Harvard Graduate School of Education and was the Richard L. Menschel HarvardX Research Fellow. He is a past Fellow at the Berkman-Klein Center for Internet and Society. His writings have been published in Science, Proceedings of the National Academy of Sciences, Washington Post, The Atlantic, and other scholarly journals and public venues. He started his career as a high school history teacher, and coach of wrestling and outdoor adventure activities. Follow Justin on Twitter or Google Scholar.
---
Written by Kate Weishaar